Past Litters
Troy Creek is pleased to offer outstanding retriever puppies that are selectively bred with careful genetic screening
These are dogs I know or have personally trained.  These retriever puppy's dams and sires are high producing dogs that have impressive pedigrees and/or are proven in the field.  Troy Creek puppies are talented, well rounded retrievers which make a desirable family dog and/or hunting partner.
Litters
Deke x Dakota
Jake's Runnin A Fowl SH  x  Twin Lakes Kate Moss Dakota Girl MH
Bred 10/20/19, expected whelp date:  11/21/19
Yellow and black litter
$1200 | Accepting deposits
Troy Creek is excited to announce the upcoming litter between Deke and Dakota. Both parents are proven performers with outstanding looks and tremendous ability.
Deke is an exceptionally talented and handsome black lab. He is easily one of the smartest and most capable dogs I've had the pleasure of working with. He is stylish, enthusiastic, and a team player. He marks exceptionally well and handles easily. Deke earned his AKC Senior title at a young age. Since then he's demonstrated that he's a capable gun dog, picking up hundreds of birds for his owner.
Dakota is an extremely talented dog. She easily earned her AKC Maser Hunter title and did so with style and enthusiasm. Never having to handle her to a mark, Dakota is nearly automatic once she sees a bird go down. She has a fantastic water attitude and is one of the brightest and most pleasing dogs I've had the pleasure of training. In addition to being super talented, Dakota's got the looks to match her brains. She has a beautiful and expressive face and gaze that shows intelligence and warmth.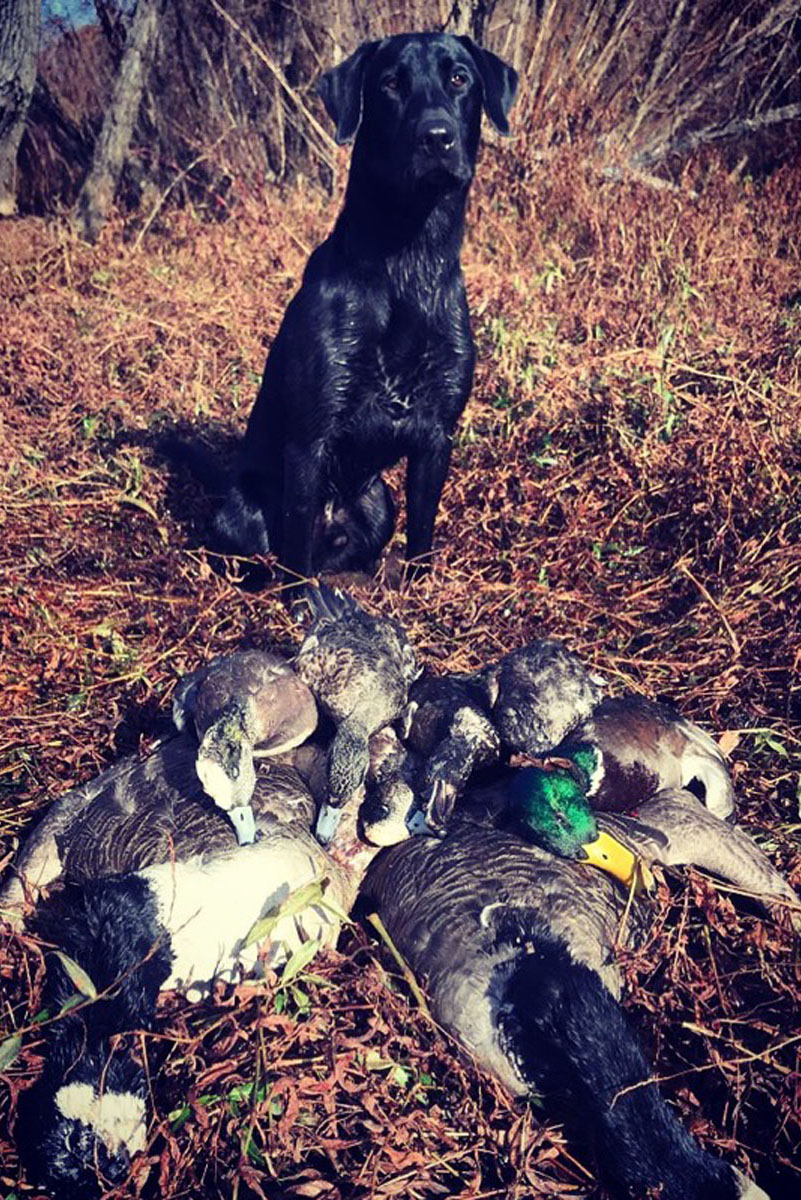 DEKE
DAM: Hillcrest Guardian
SIRE: FC AFC Low Tide's Pounder
AKC: SR90450703
HIPS: Good
ELBOW: Normal
EIC/CNM: Clear by parentage
DD: Black, no dilution
Senior Hunt Title: 7/22/2017
Specializing in
Labrador Puppies • Chesapeake Bay Retriever Puppies • Poodle Puppies • Golden Retriever Puppies
212 Troy Farm Road
Colonial Beach, VA 22443 
(540) 273-1539