Past Litters
Troy Creek is pleased to offer outstanding retriever puppies that are selectively bred with careful genetic screening and health clearances.
Troy Creek puppies are bred from high achieving dams and sires with impressive pedigrees and who are proven in the field. We take significant steps to ensure our pups are not affected by genetic diseases that can be tested for, including dilute coat color. Puppies are whelped and raised in our home as part of our family. Troy Creek puppies are talented, well-rounded retrievers and make desirable family dogs and hunting partners.
Litters
Deke x Dakota
Jake's Runnin A Fowl SH  x  Twin Lakes Kate Moss Dakota Girl MH
Bred 10/20/19, expected whelp date:  11/21/19
Yellow and black litter
$1200 | Accepting deposits
Troy Creek is excited to announce the upcoming litter between Deke and Dakota. Both parents are proven performers with outstanding looks and tremendous ability.
Deke is an exceptionally talented and handsome black lab. He is easily one of the smartest and most capable dogs I've had the pleasure of working with. He is stylish, enthusiastic, and a team player. He marks exceptionally well and handles easily. Deke earned his AKC Senior title at a young age. Since then he's demonstrated that he's a capable gun dog, picking up hundreds of birds for his owner.
Dakota is an extremely talented dog. She easily earned her AKC Maser Hunter title and did so with style and enthusiasm. Never having to handle her to a mark, Dakota is nearly automatic once she sees a bird go down. She has a fantastic water attitude and is one of the brightest and most pleasing dogs I've had the pleasure of training. In addition to being super talented, Dakota's got the looks to match her brains. She has a beautiful and expressive face and gaze that shows intelligence and warmth.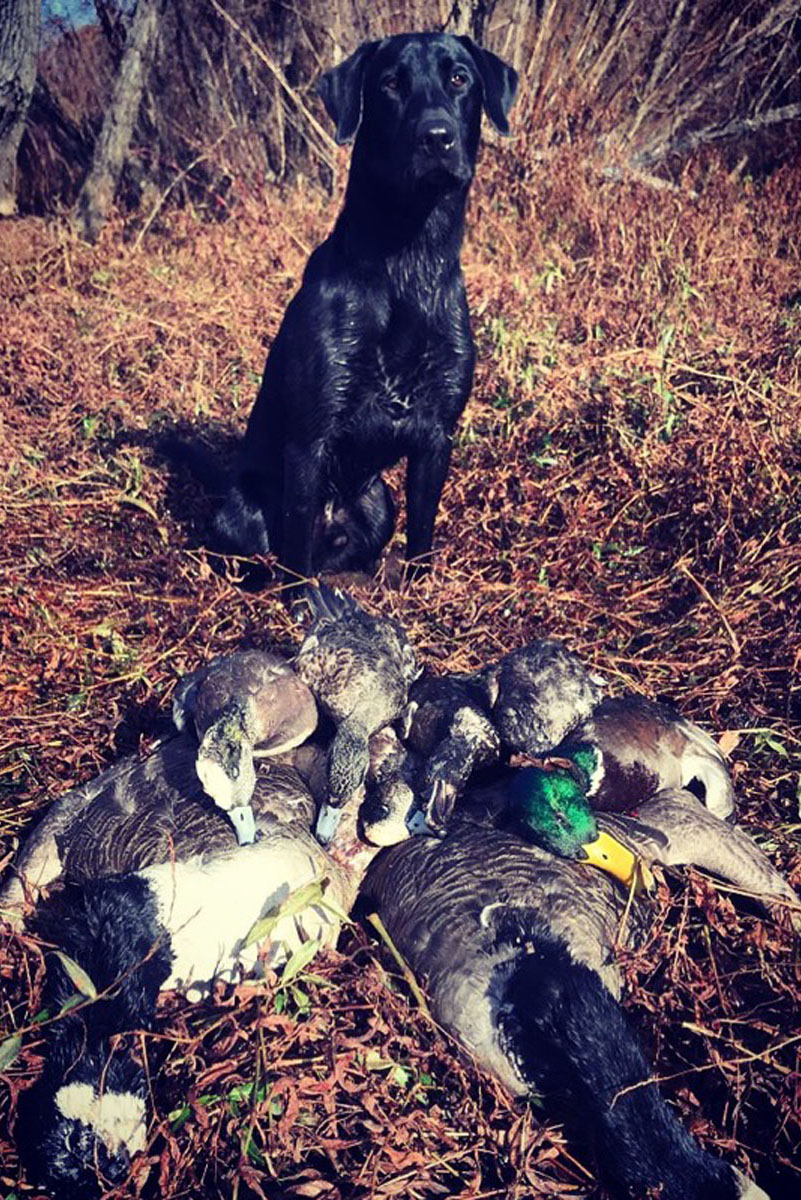 DEKE
DAM: Hillcrest Guardian
SIRE: FC AFC Low Tide's Pounder
AKC: SR90450703
HIPS: Good
ELBOW: Normal
EIC/CNM: Clear by parentage
DD: Black, no dilution
Senior Hunt Title: 7/22/2017
Litters
Boss x Pink
Candlewoods Meet the New Boss MH x Troy Creek's Dark Side SH
Whelp Date: April 6, 2021
All black litter | 6 Females – 3 males
Accepting deposits
Troy Creek is very excited about the current available litter by Boss and Pink. Both parents are outstanding working retrievers with phenomenal pedigrees. Both have a passion for birds and pleasing their owners. They're easy going, confident, and have pleasant personalities. Their outstanding looks and athleticism are the icing on the cake. These pups will be extremely capable trial, hunt-test, and/or gun dogs, being exceptionally smart, trainable, and stylish. Both sire and dam have lots of desire and drive and both are team players and easy to handle.
Boss is an exceptionally talented and handsome black lab. He is a phenomenal retriever and a true gentleman in the duck blind. His pedigree is fantastic, loaded with several Hall of Fame retrievers and "Who's Who" of the retriever sports. Boss earned his MH while being trained and handled by his owner, an amateur retriever enthusiast. In addition to being a fantastic hunt-test dog, he's picked up hundreds of ducks and geese while hunting with owner. When he's not hunting, Boss is an excellent companion and a pleasing dog with a noticeable "off switch."
Pink is one of the most pleasing and biddable retrievers I've had the pleasure of working with. She is wise beyond her years and genuinely wants to do the "right thing." She is exceptionally smart and learns concepts quickly. She is a fantastic marker and runs with style and purpose but isn't out of control. In addition to earning her SH and having three MH passes, she hunts duck, dove, and geese. She is an exceptionally easy dog to hunt and handle. You don't know she's there until you need her. Once Pink is done nursing her litter of pups, she'll continue running hunt tests pursuing her MH title.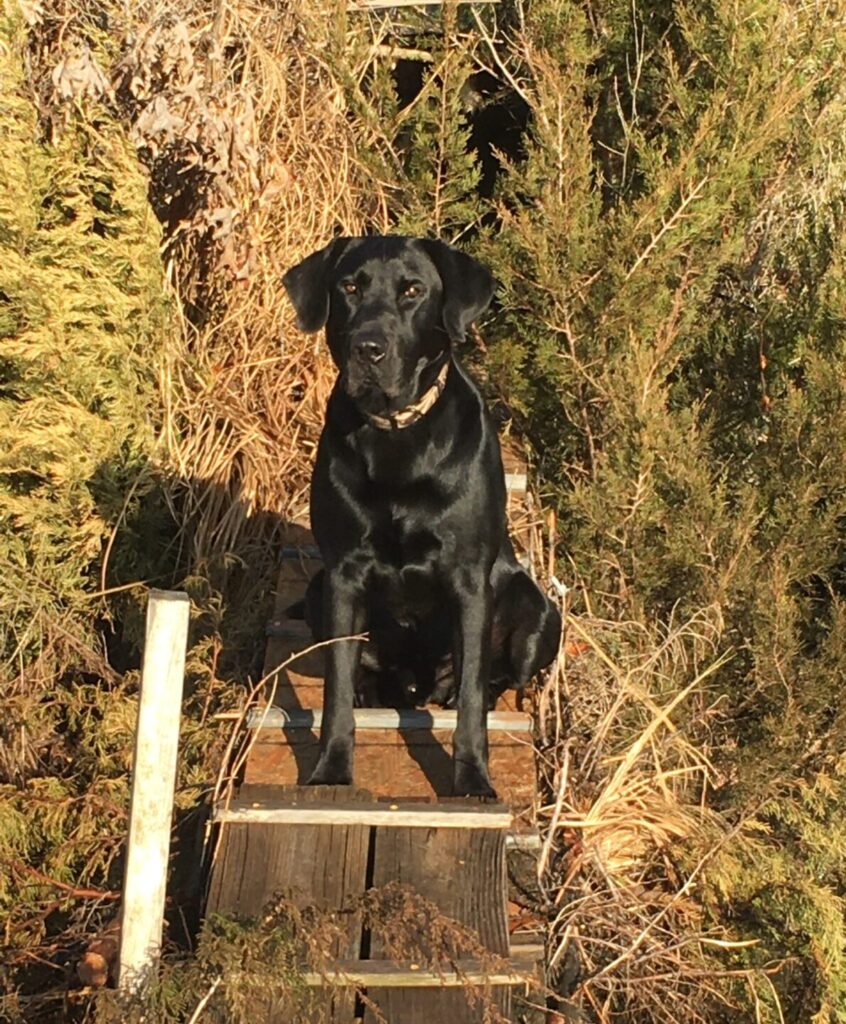 BOSS
SIRE: Candlewoods Boss Man at Rocking-x MH52 MNH1
DAM: Candlewoods Judging Miss Conduct
AKC: SR90256901
HIPS: Good
ELBOW: Normal
EIC/CNM/PRA: Clear
PINK
SIRE: FC AFC Low Tide's Pounder
DAM: Woodstream's Fowl Mouth Maggie JH
AKC#: SS04634605
HIPS:  Excellent
ELBOW: Normal
EIC/CNM/PRA/Dilute: Clear
Specializing in
Labrador Puppies • Chesapeake Bay Retriever Puppies • Poodle Puppies • Golden Retriever Puppies
212 Troy Farm Road
Colonial Beach, VA 22443 
(540) 273-1539